Über uns / Team
· Bernd Schwenke
(born in 1963)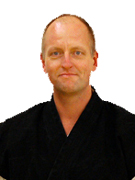 Bernd Schwenke
Director of
the Academy
Tel: +49 21515 46920
1979 :
First Shaolin Kempo / Chuan Fa-Training
1984 :
Start of apprenticeship in Tai Chi Chuan and Chi Kung
1991 :
1

st

Dan Chuan Fa
1992 :
First course instructor for the Tai Chi Chuan courses of the BarmerErsatzkasse
1994 :
Trainer-in-chief (karate), Zen-Kampfkunst Krefeld e.V.
1995 :
Reiki master and teacher
2000 :
4

th

Dan Karate Do
2001 :
Huna-Vita training with Ekkehard Zellmer
2001 :
Self-employed as trainer for Martial Arts and Health trainer
2002 :
Further education in Shiatsu
2003 :
Formation of the Martial Arts and Health Association
today :
Taijiquan advanced training at the Deutsche Sporthochschule Köln ("Advanced Technical College for Sports")
---
After working for 25 years with the international group Bayer AG (chemicals), first in Research & Development, then as manager of the Global Account Management Department, Bernd Schwenke decided to turn his hobby into a job. Thus, Asian martial arts came into the focus of his professional life.

Martial arts have been an integral part of his life since the age of 16. In the meantime, he became a certified teacher for karate and co-founded the Martial Arts and Health Association that deals with the Zen-Shorin-Ryu martial arts and health systems.

At the age of 21, Bernd started to study and practice Taijiquan, first with Sifu Peter Willmsen (Zen-Do Bielefeld), then with Sifu Harald Pfeiffer (Mönchengladbach), with whom he continued his training education in the Yang style (Taijiquan), Chi Kung and Chuan Fa.

His Chinese masters, Dr. Wenjun Zhu and Lixia Zhu, university teachers (both at the Deutsche Sporthochschule Cologne – "Advanced Technical College for Sports") helped him to broaden his horizons and learn new styles, thus giving him new opportunities for self-growth and new, challenging objectives.
---

· Ute Langnickel
(Jg.1955)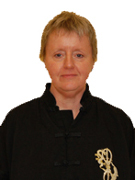 Ute Langnickel
Qigong Trainer
Individual and group training.
Phone:+49 21023 4388
1982 :
Lecturer for German and Music at a secondary school in Düsseldorf
2003 :
Reiki master and teacher in Ratingen
2003 :
Formation for sound massages after Peter Hess
2005 :
Formation in Qigong with Bernd Schwenke (Taiji Qigong Academy Krefeld)
2006 :
Further training in Qigong Yangsheng (after Prof. Jiao Guorui) with Karin Schlingmann (Wyk)
2008 :
Ausbildung zur Qigong- Lehrerin bei Dr. Wenjun Zhu an der
Sporthochschule Köln
2009 :
Teacher in Qigong and Tuina at the Deutsche Sporthochschule Cologne ("Advanced Technical College for Sports")
---

· Hubert Müller
(Jg. 1954)
Hubert Müller
Taijiquan and Qigong
Trainer
Individual and group training
Tel: 02151 - 761750
1968 :
Member of the DLRG, swimming lessons for children and teenagers
1970 :
Member of the karate group at the Police Sports Club Krefeld 1

st

Dan Shotokan-Karate. Certified Fitness Instructor class A
1979 :
Trainer of the karate group at the PSV
1979 :
Winner of the Kata-Team Federal Cup NRW
1983 :
Co-author of the textbook "Methodik und Didaktik im Karatesport – Methodology and Didactics in karate sports"
1997 :
Reiki Master
1999 :
Formation in Yoga with Yoga Vida
2003 :
Ongoing formation in Taijiquan and Qigong
2007 :
Certified non-medical practitioner (Psychotherapy)
---

· Anne Kneip
(Jg. 1947)
Anne Kneip
Qigong Trainer
Individual and group training
Tel: 0211 - 99364600
| | |
| --- | --- |
| | Studies in translation French and English translations on this web page |
| 1992 : | Freelance translator |
| 1999 : | Formation in kinesiology (Touch for Health) |
| 2000 : | Psycho-Kinesiology |
| 2000 : | Hawaiian Bodywork and Massages (Lomi Lomi Nui and Kahi Loa) with Serge King, Hawaii |
| 2001 : | Transformation Kinesiology after and with Grethe Fremming and Rolf Hasboel |
| 2002 : | Energy Anatomy after and with Grethe Fremming and Rolf Hasboel |
| 2002 : | Formation in Qigong with Bernd Schwenke (Taiji Qigong Academy Krefeld) |
| 2003 : | EDxTM (Energy Psychology) after Fred Gallo |
| 2006 : | Huna-Vita training with Ekkehard Zellmer |
| 2003 : | Nutritional Coach metabolic balance© after Dr. Funfack |
| 2004 : | Reiki master |
| 2009 : | Teacher in Qigong and Tuina at the Deutsche Sporthochschule Cologne ("Advanced Technical College for Sports") |
---